Better home care from only the best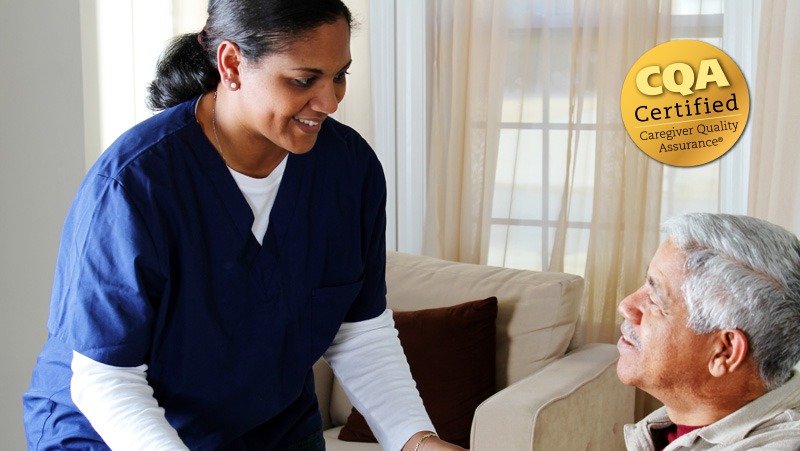 Lifeline Homecare demands excellence from the caregivers we employ. Only the most compassionate, dedicated, and qualified caregivers will be selected to look after your loved one. We have developed a rigorous screening process to help us decide whether or not a potential caregiver has what it takes to join our team.
The screening standards we use have helped us continuously select the highest quality caregivers. These standards of excellence help ensure consistency in the services that we provide your loved one and that every visit will be just as professional and pleasant as the last.
As part of our BetterCare Screening Process, we participate with the Caregiver Quality Assurance™ program, the industry leading program for recruiting, selecting, and retaining the best caregivers. Every potential caregiver must participate in a mandatory caregiver assessment that utilizes advanced psychological testing to help ensure that the caregivers we send into a client's home are trustworthy, dependable and qualified to provide top quality care.
Through our BetterCare Screening Process, all potential caregivers must go through rigorous background checks, verification of experience and references, and in-person interviews. Only the top applicants are selected to join our team of caregivers, and each caregiver goes through structured extensive training and participates in continuous education programs. We consider our caregivers to be the best in the industry.
We consider Lifeline's BetterCare Screening process to be the most rigorous in the industry. We carefully review and/or verify the following information for each applicant:
Experience & Reference Checks
Application for employment
1+ year of professional work experience as a caregiver and/or certified as a Certified Nurse Assistant (CNA) / Home Health Aide (HHA)
2+ professional caregiving references
1+ personal references
Documentation Verification & Medical Clearance
Valid driver's license
Employment eligibility
Verify employment references
Social security verification
Tuberculosis (TB) test
Mandatory for hire and random drug testing
Proof of adequate automobile liability insurance
Background Checks
Nationwide criminal background check
Department of Motor Vehicle (DMV) record check
Kentucky Nurse Aide Registry (KNAR)
OIG List of Excluded Individual/Entities (LEIE
Screening & Interviews
Phone interview (preliminary assessment of qualifications, experience and attitude)
In-person interviews (to further assess and select only the best caregivers with the values and qualifications that meet Lifeline Homecare standards of excellence)
Competency screening for skill sets and experiences
Integrity screening for trustworthiness, honesty and reliability
Verification of certificates and other training
Mandatory 90-day introductory period upon hire
In addition to the screening process above, Lifeline Homecare employs the use of an integrated telephone and internet-based, time and attendance management solution called PATTI (Personnel Attendance Tracking by Telephone & Internet) to verify caregivers' time and attendance at remote locations. This promotes accountability and reliability from our caregivers so that your loved ones get the best service possible.
Diversity Statement
Lifeline Homecare is committed to a work environment that values and benefits from a diverse community of all its team members. In our daily practice we promote an open environment accepting of all people regardless of race, color, religion, age, gender, ancestry, political affiliations, creed, national origin, marital, familial or veteran status, sexual orientation, disability or any other legally protected status.
Our efforts are guided by the core values of respect, patience, open mindedness, and ethical practice to ensure a productive work relationship in a diverse setting. We strive to have in place practices that promote cultural competency with a focus on the dynamic cultural changes in the wider society.