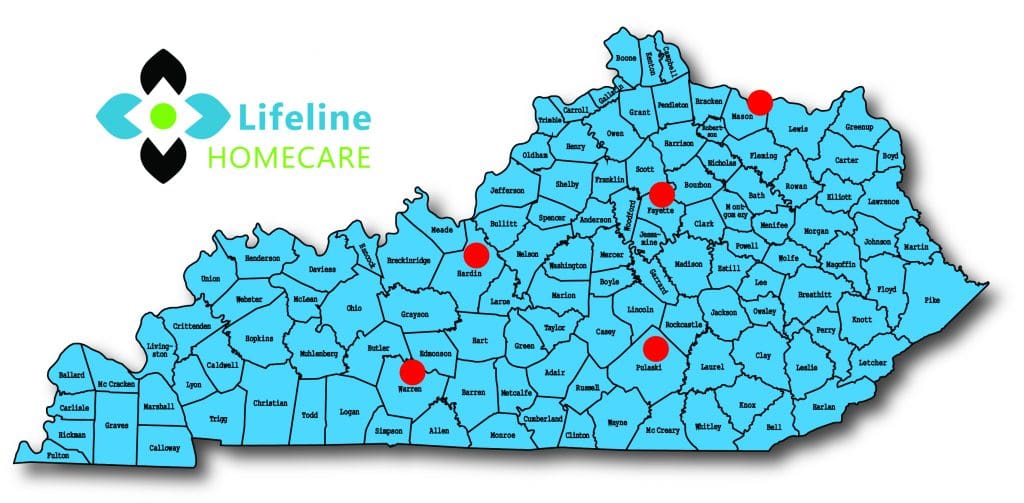 Always available anywhere in Kentucky, Lifeline Homecare navigators help families sort through information and create a plan to best preserve dignity, resources, quality of life, and independence. Lifeline Homecare Navigators have a wide range of knowledge and experience in senior care both professionally and personally. Sharing your unique circumstances and hearing recommendations from these professionals is the best first step you can take.
Regional Office Locations
| | |
| --- | --- |
| Somerset, KY | (606) 676-0959 |
| Maysville, KY | (606) 759-0060 |
| Elizabethtown, KY | (270) 842-6966 |
| Lexington, KY | (859) 273-2708 |
| Bowling Green, KY | (270) 842-6966 |
Lifeline is served from regionally located offices to ensure caregivers and clients have connections to local resources and relationships with local people.
Regional Directors, Assistant Regional Directors and Schedulers work to recruit and train caregivers, meet with families and clients, schedule and manage services, complete administrative functions and more. In addition to in-office staff members, Lifeline Homecare Care Coordinators work remotely from local communities to ensure quality service and respond to local needs.
Caregivers are the star members of our team. They embody the heart of caregiving and carry out our mission of providing quality service to every client. They begin serving clients only after undergoing background checks, drug tests, required training courses, and on-the-job orientation. All caregivers are bonded and insured to protect Lifeline Homecare, themselves and those they serve.