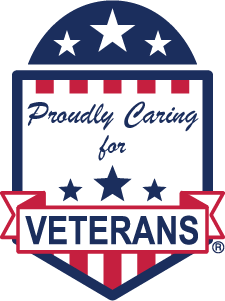 How do you pay honor to veterans who pledged and served to protect the Constitution of the United States and the freedoms and values it allows on behalf of all who call America their homeland?

First, we say "thank you" for your sacrifice and service. We know you put aside self in service to others. We know this came at a price. We will not forget.
Secondly, we say "it is a pleasure to serve you" and we mean it. Assisting veterans and their families in preserving dignity, honor when choosing to age at home is a privilege.
All of Lifeline Homecare's services are available to veterans and their families. Lifeline Homecare participates with all VA healthcare programs and is often recommended as a provider for veterans qualifying for care under the VA Homecare and VA Aide and Attendance programs. Ask your case manager for Lifeline Homecare by name. We are honored to be your "lifeline" to the support services you need to remain safely in your home.
Programs that could help veterans, their spouses receive homecare services include: veteran directed care; homemaker and home health aide program; respite care; palliative care and other special opportunities. These services are administered through the US Department of Veteran's Affairs Geriatric and Extended Care division. https://www.va.gov/GERIATRICS/pages/Home_and_Community_Based_Services.asp
Programs that may help veterans, spouses and families pay for supportive homecare services include: VA Disability Compensation; VA Pension; VA Aid and Attendance and other special programs. There are service and needs assessment requirements that differ for each program. Please contact your nearest VA service representative for more information. If we can help you, please let us know.
Special note: The VA Aid and Attendance program is a little known tax-free pension benefit which pays for homecare services for veterans and/or their spouses if the veteran meets certain service-related requirements. Lifeline Homecare has a working relationship with Veterans Care Coordination and we are pleased to assist you in exploring whether you might meet the criteria for VA Aid and Attendance.